UNFORGETTABLE MEMORIES
PHS will be saying goodbye to two teachers at the end of the 2019-2020 school year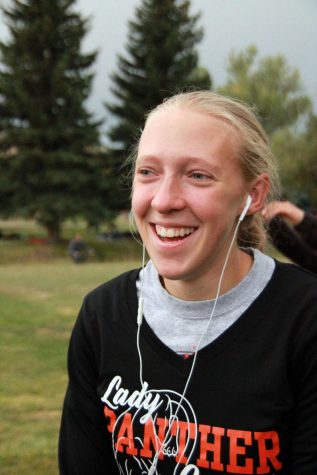 More stories from Kayla Kolpitcke
As thoughts of summer loom in the back of the minds of Powell High School students, the prospect of a life without school also fills the thoughts of two teachers.
Special Education teacher Mrs. Michelle Bills and Choir Director Mr. John Miller will be retiring at the end of the 2019-20 school year.
Mrs. Bills has been at Powell High School for four years, but has been teaching since she was 16 years old. Along with being a Special Education teacher, Mrs. Bills has taught high school English, talented and gifted, science, yearbook and journalism. She has coached both Cheer and Speech and Debate.
But Mrs. Bills' teaching career didn't start in a classroom.
"I started teaching when I was 16 and I taught hydrocephalus babies how to swim," Mrs. Bills said. "That was my first experience."
Mrs. Bills' career has also taken her places other than high school.
"I've taught at the college level, I've taught at Regis University, I've taught preschool, I've done summer school," Mrs. Bills said.
After teaching in so many schools, Mrs. Bills knows some good stories.
"I had a journalism student that was living in the back of the auditorium," Mrs. Bills said. "The sad part about it – it's funny now, but it wasn't funny at the time – was he was a homeless kiddo, and he would try and catch the bus that was going down to the teen homeless shelter in Colorado Springs.
"But the alarm kept going off and they couldn't figure out why … It took them two or three weeks to realize he was living in the auditorium, and the alarm was going off because he was getting up in the middle of the night and going to the bathroom or something like that and they couldn't find out. Back then, they didn't have cameras like we do now."
Teaching has been a big part of Mrs. Bills' life, and there are certain aspects of teaching that make it so important to her.
"Seeing kids take ownership for their own learning and seeing them successful [is the most rewarding part of being a teacher]," Mrs. Bills said. "There's too many bad things that go on. Broken homes, people that don't have food, you know, that kind of stuff. The most rewarding [thing] is to see them really happy with what they are doing, and that they can go on to the next level, and really love to learn."
In her four years at PHS, Mrs. Bills has met many people she will miss when she retires.
"The kids – the students," Mrs. Bills said. "The students and my peers.
"Mr. Cappiello and I started at the same time and we started together here at Powell High School and I think that has been, you know, my common bond. We always were doing things together the first year, so he was pretty instrumental in being successful."
Even though retirement is her plan right now, she doesn't expect to stay away from teaching for long.
"I love teaching, and I think that even though I'm going to retire and take a year off," Mrs. Bills said. "I don't think that I'm really retiring, I'm just taking a year off to decide if I want to continue."
As for the free time she will have after retirement, Mrs. Bills plans to do some traveling.
"I'll travel with my husband [Dennis] for a little bit, but then I'll probably go back and teach a college class Northwestern or maybe something else," Mrs. Bills said. "I'll probably go to Arizona, we might go to Italy … we might return to Hawaii."
Mr. Miller has taught at PHS for 28 years, and has been teaching for 41 years total, including around 13 years spent in Cokeville.
For Mr. Miller, there was never any question about what career he wanted to be in.
"I think it was always a teacher," Mr.  Miller said. "Yeah, it wasn't second on the list. It was [the] first."
The draw towards music started early in his life.
"I was always passionate about [music]," Mr. Miller said. "It was always in me. I think it evolved into [being a] music teacher.
"How do you get to live your passion, or live your interest? What better way to do it than to share it with, or do it with students."
In his many years of teaching, a few moments stand out..
"I think [my] favorite memory is having the whole choir – all of Concert Choir – perform at the opening concert of All-State," Mr. Miller said. "We performed a 30-minute set, so it wasn't one particular song. But it was a very memorable time, I felt like I had … won."
Another one of his memories is of a very well-kept secret that, when revealed, created an enthusiastic response.
"Dewey Schwahn and I kept a secret from the whole choir, everybody else," Mr. Miller said. " … It was an all-choir concert and the girls had just performed 'Taylor the Latte Boy' and had no idea that he was going to come out and sing 'Taylor's Rebuttal,' and it was a cool night. It was absolutely cool … the kids went nuts."
As for the classroom part of his job, Mr. Miller enjoys watching the students continually improve.
"The most rewarding part of teaching is student's success," Mr. Miller said. "And I get to see it long range because I teach middle school. I teach sixth-graders, and I get to see them change and I get to see them stay with it."
This also ties in with what he will miss the most about teaching.
"
I think the daily working with students [will be what I miss the most]"
— Mr. Miller
"I think the daily working with students [will be what I miss the most]," Mr. Miller said. "Just seeing them every day. And just students in general. It's fun to have that conversation with them and see where they are."
Mr. Miller's list of accomplishments and career highlights is long. It includes a four-week college trip to Austria, the Concert Choir opening for All-State, the Wyoming Choir and Band trip to Italy, Erochne singing for a state football game and traveling with Wyoming Music Ambassadors.
Another highlight is simply the large number of his students that participated in All-State, All-Northwest choirs and National choirs. In fact, pictures of All-State students line an entire wall in the choir room along with Erochne group pictures which line the adjacent wall.
With a lot to look back on, Mr. Miller's time teaching is nearing an end. This end brings new things for him to look forward to.
"I am looking forward to no schedule," Mr. Miller said. "I've never done retirement, but I had never done teaching either.
"So it's like all of a sudden you're into it, and your plate is full. So in retirement, I hope my plate is not full. And I hope it brings camping and travel, and just a lot of down time."