STATCHAT: SUCCESSFUL WEEKEND FOR FALL ATHLETICS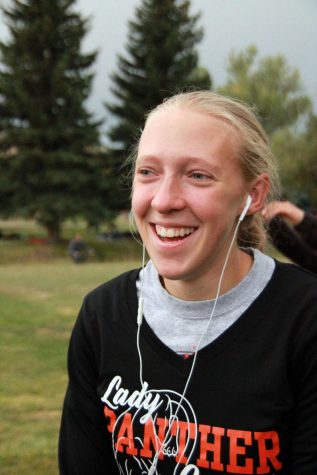 More stories from Kayla Kolpitcke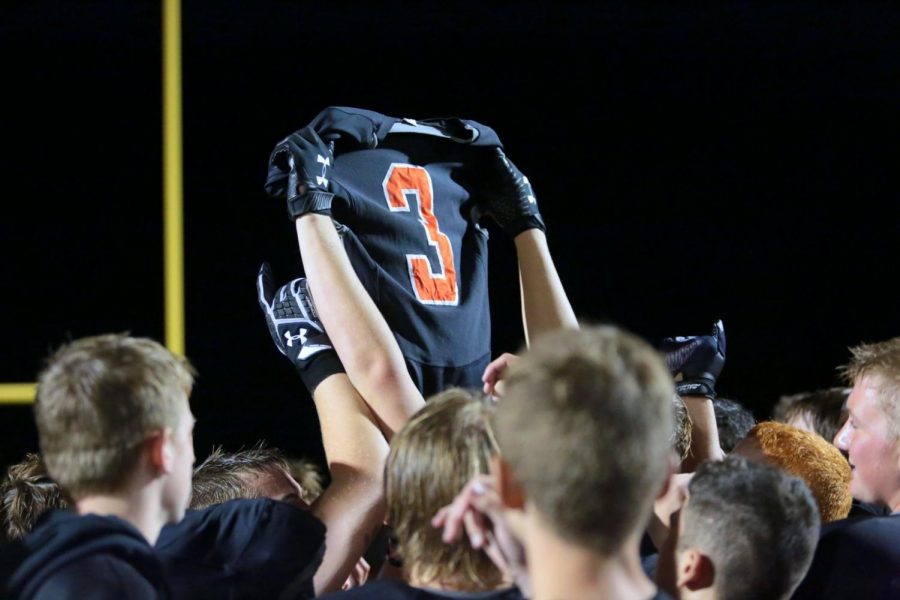 Swimming
The Lady Panther Swim Team swam their way to success this weekend. They won first place in both the meets they competed in, the Terry Bartlett Invite in Cody and the Riverton High School Girls Invite. 
"I think it's great that we have so many girls on the team this year," Rocky Mountain High School senior Anna Fuller said. "And with the progress the team has been making in these short few weeks I believe it could be possible for every girl to qualify for state."
In the three meets they've had so far, the team has had 13 girls qualify for state including junior Emma Karhu, junior Addison Moretti, Fuller, freshman Lucia Harder, senior Sidney O'Brien, senior Ashlyn Agurrie, junior Madison Lowery, senior Rachel Kuntz, junior Elizabeth Liggett, freshman Kami Jensen, junior Maddi Hackenberg, sophomore Grace Hardin and sophomore Sydney Legler.  
The team has a hopeful outlook on the rest of the season.
"If we keep working hard while maintaining that fun-loving atmosphere I believe we will, as a team and as individuals, achieve great things this year," Fuller said.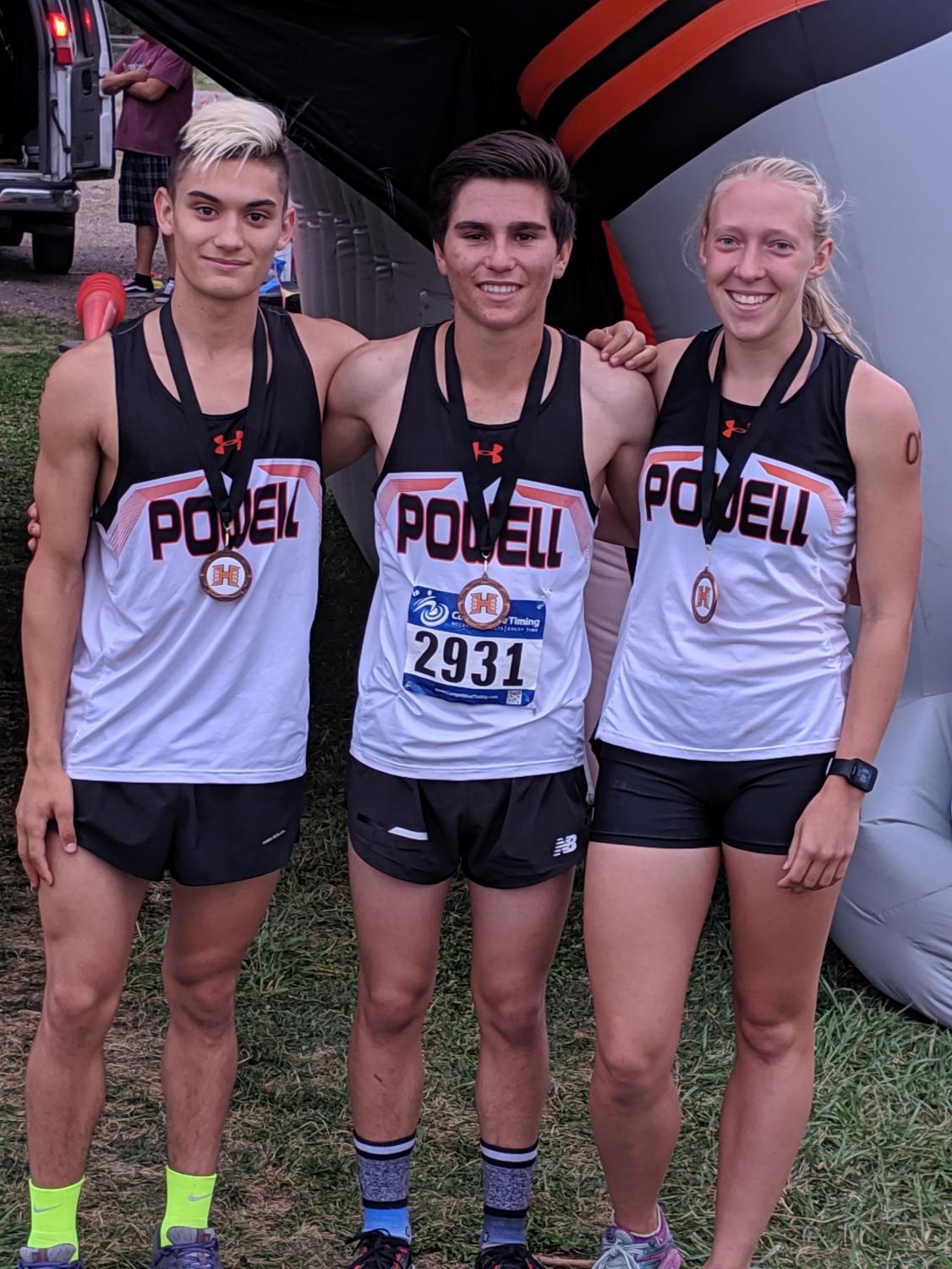 Cross Country 
The Panther Cross Country team ran in Hardin, MT, for the first time in Panther history on Friday. Though a steep hill and smoky conditions proved difficult, the Panther team pushed through.
The Panthers finished the meet with 109 points giving them third place. Junior Tyler Pfeifer and junior Joey Hernandez both finished in the top 15. Pfeifer came in third place, while Hernandez followed in 12. 
"I think we did great for how challenging the meet was," Senior Kaitlyn Decker said. "We were all working hard and it's beginning to show in the team standings."
The Lady Panthers ended the meet in sixth place with 132 points. Senior Kayla Kolpitcke finished in 15th place, closely followed by sophomore Kabrie Cannon in 18th. 
Volleyball
The Lady Panther Volleyball team came through the weekend with two wins and two losses after competing at the Border Wars Tournament in Cody.
"I thought we played pretty good, especially because for almost all of us this is our first year playing at the varsity level," senior Michele Wagner said. 
Powell took the first game against Hardin 3-1 only to fall to Park 3-2. The following game, the Lady Panthers faced another defeat at the hands of Billings Central with a score of 3-0. The girls kicked into gear after this, defeating Sidney 3-0. 
"Our main focus after we lost was to keep our attitudes positive," Wagner said. "And make sure that we didn't dwell on our mistakes."
Golf
The Powell Golf teams competed in Thermopolis on Friday, the Panthers earned a third-place finish in the invitational and the Lady Panthers won the event. 
The Lady Panther team is made up of two girls, freshman Jasmin Simonson and senior Mycah Wainscott. Simonson placed 6 in the meet, while Wainscott wasfirst with 86 points. 
"We played better the last two weeks, kinda the midpoint of our season so we're playing a little bit better," Coach Troy Hildebrand said. "Our experienced players are playing pretty well, Crandell Sanders and George Higins on the boys side and Mycah Wainscott on the girls side. And then our less experienced players are kind of finding their way a little bit more, a little bit better than they had early in the season."
The Panther team has a 10-man roster. Senior Crandell Sanders got seventh place in the competition, followed by George Higgins in thirteenth. Freshman Steven Stambaugh came in third for Powell, followed by junior Trevor Groves, junior Jacob Thiel, junior Yogi Sullivan, sophomore Brandon Wentz, freshman Seth Siebert, freshman Sam Hallman and freshman Stetson Davis. 
Tennis
The Panther and Lady Panther tennis teams crushed the competition as they competed in Rawlins over the weekend, bringing home a win with every match they played.
"I think our matches went really well," first singles player and senior Jesse Brown said. "We all played our best, we all ended up winning."
Though there were some challenges, the team kept playing and it paid off. 
"I think I played well," first girls singles player and senior Sloane Asay said. "It was a close match, somewhat frustrating, but I think I kept my cool. It was a good win for me."
Another Powell team had a similar experience. 
"The third girls doubles team had a rough start, but pulled through for a win," Asay said. " … And everyone was supportive and cheered each other on like always."
Football
The Panther Football team pulled off a win against Worland on Friday night, and another win after the game when the total amount of money raised in support of Ethan Asher was counted. 
"First half we about evenly matched," junior Kadden Abraham said. "We were bosh pushing against each other. Then, second half went a lot better for us just because we have a lot more depth than Worland and so second half we, obviously, started to pull away and ended up taking the game pretty handedly."
The game against Worland was the team's first official win of the season with a score 24-7.
"As a team, I think we all felt pretty good especially since the accident with Ethan happened," Abraham said. "We were all excited for this one because we're wanting the season to go super good for Ethan." 
As the football game was going on, there were also fundraisers in action for Ethan Asher. The fundraisers included a bucket being passed around for people to drop money into and an anonymous community member who promised to match the money raised at the game up to $10,000. 
"When we turned the lights off at the stadium," Athletics Director Mr. Scott McKenzie said. "We'd raised over $30,000"