Q & A WITH RETIRING PRINCIPAL
Mr. Kuhn provides insight on his life as a principal and husband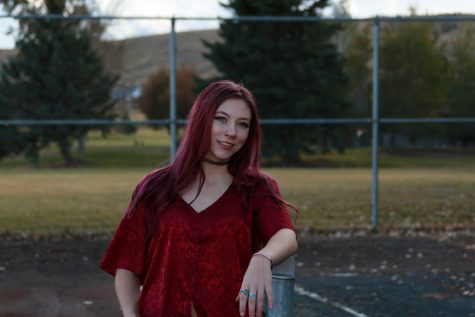 More stories from Lauren Dewitz
As the last days of school are counted down, most of the Powell High School's student body knows about Principal Mr. Jim Kuhn's retirement. Throughout the high school years, many have gotten to feel a little bit of the love he shows for us and this school. Whether it was a high five when you saw him in the hallway or a visit from him during Journalism class, he has always been there to remind us school can be more inspiring with good guidance.
Most students know Mr.Kuhn has been in education for a long time (42 years, to be exact), but unless you have one-on one-conversations with him, you may not know much else about him.
So, before we wrap up this 2018-19 school year, let's get to know the man who has guided this school since 2012.
QUESTION: What advice would you give incoming principal Mr. Wormald?
ANSWER: My best advice to Mr. Wormald would be to just be Mr.Wormald; be yourself. He's one of the best men that I've worked ever with in my career, and I think he will be a good principal.
Q: Over the course of your career, what has changed the most?
A: The amount of paperwork that you have to do, the high-stakes testing like the WyTOPPs test … the ACT test. These are so high stakes and I feel so sorry a lot of time for students because you take one test and people are supposed to judge how you and our school is [based] on one test. And that's not what education is about. I think that's so unfair. I think the amount of work and things that we ask teachers to do has increased a bunch from when I started, and so those are some of the biggest changes and just the amount of pressure that is on students.
Q: If you had not have got into education, what career would you have chosen?
A: I really don't know what I would've done. I changed my major like four times when I was in college and ended up with education after trying three other subjects and careers and not liking them. Going into education because that's just what I thought I'd be best at and I have just loved my time in education maybe, possibly a medical field somehow because it would've been helping people too and that's kind of what education is about – helping people … you can't beat education.
Q: We know you love baseball, so could you tell us about your favorite player, or maybe your favorite team?
A: My favorite team is the Kansas City Royals. My favorite player is from way back in the old days when I was a kid, a guy by the name of Al Kaline who played for the Detroit Tigers, and he was the right-fielder. He was just a tremendous baseball player, great hitter, great arm, but the thing that always impressed me was he was just always a class act on the field whether the Tigers won or lost, whether they were in a World Series. He just was this classy guy that I just thought wow, I wanna be like him.
Q: What's one of the first things you want to do in your retirement?
A: Well, the first thing I am going to do is go see my newest grandson. He was born about three weeks ago, and so we will get to see him in about three weeks, and so that will be pretty cool. He's got a 2-year-old brother and he's the second child of my youngest son, and then I'm going to learn how to throw a fly on my fly rod. I'm going to try to perfect my casting ability with fly rods this summer.
Q: How does Mrs. Lavona Kuhn handle the long hours you put into your administrative job?
A: Ever since I met her in college, I played sports … so I was gone a lot and a lot of evenings away from home even after we got married …  so she just kinda got used to me being gone. Then when I taught I also coached, so there were a lot of nights I wasn't home there as well. Sometimes I just think she's happy I'm not around the house. She really doesn't appreciate my sense of humor sometimes but no, she's just been a saint to put up with 42 years of me being gone. She's a great lady.