PANTHERS GLIDE TO VICTORY
POWELL SWIMMERS BEAT CODY AND WORLAND IN TRIANGULAR MEET, CODY IN DUAL.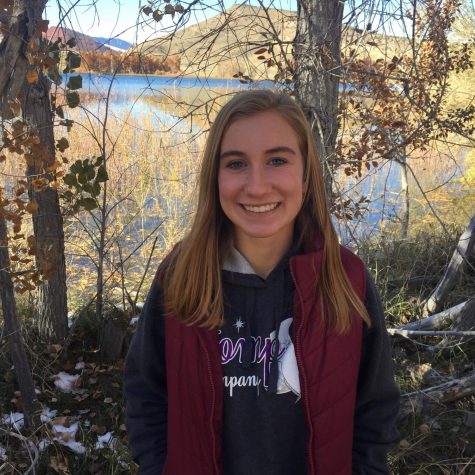 More stories from Kabrie Cannon
The Powell Panthers swimming and diving team started their season in style Dec. 13-14.
PHS hosted a triangular meet at the  placed first with 375 points, Worland followed closely in second with 364 points, and Cody placed third with 286 points. On Saturday, the boys gained another victory over Cody during the dual. 
The Panthers said they are working towards another quality season under Coach Robert Gorycki.
"It's hard to say how the season will go so early, but good things happen when there are people dedicated enough to better themselves, and I see a lot of that on the team," senior Jay Cox said. "We have some young talent and if they put in the work they should turn into excellent swimmers by the end of the season."
The swimmers and divers have high hopes for this swim season.
"
Good things happen when there are people dedicated enough to better themselves, and I see a lot of that on the team."
— Jay Cox
"Yes, they [swim times] are better than I had hoped," sophomore Nate Johnston said. "My swims were not at my fastest, so they still have some improving to do, but judging how they are now, it is almost certain for me to get some new personal records."
There has already been improvements in times within the first two meets of the season.
"It's always hard to tell how the season will go this early, but the team has been taking off time already, which is a good sign that we will have good competition the rest of the season," Johnston said. "The majority of the team might be able to reach a qualifying time."
The first competitive weekend showed the swimmers where they need to improve.
"As an individual I did not swim as well as I would liked, but it's early and it helped me to see what I need to work on," Cox said. "As a team I saw some impressive swims from younger swimmers, which was great to see."
 "My times weren't nearly as fast as I would've liked, but like I said earlier, it told me what I needed to work on personally. I feel fairly strong conditioning wise, but I just need to get my feel for the water back form-wise. I'm fighting myself while I'm in swimming and losing a lot of energy in the process. Me and my coaches are confident I will drop time quickly as my form improves."
As the team gets in better shape, they hope to better their swim times.
"I think our conditioning is a little shaky as of now but that will come later in the season," Cox said. "I definitely think we need to work harder and more efficiently during practices."
The teammates are still getting to know each other.
"I think the team is still warming up to each other, so I think the cheering is good, but we can get better," senior Ben Cannizzaro said.
The boys look forward for the meets coming up.
"[My teammates had] good places and they still had a potential to have better times, Lander will give us a good run for placing though," Johnston said.