LOOKING FOR A DEAL?
During COVID-19 crisis, budget-conscious find bargains, comfort at Downhome Discount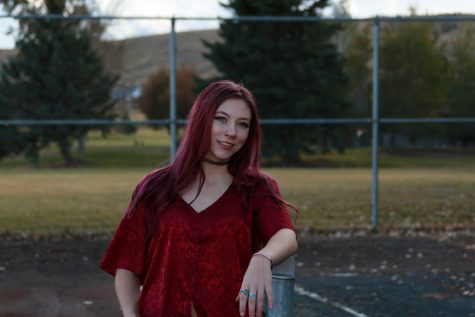 More stories from Lauren DeWitz
It is not a secret that many Americans live from paycheck to paycheck. According to forbes.com, nearly 80% of Americans use the majority or all of their monthly income to cover basic expenses. 
If you feel like you fit into this category, there is one way you can cut down on expenses in regards to grocery shopping: Downhome Discount. This local business provides an array of non-food items such as medicine, clothes, household items (such as kitchenware and cleaning supplies), pet supplies and much more. 
"I really love going to the store because [of] how cheap the food is," junior Haley Lynn said. "We go there about once every two weeks."
There is one location in Powell and one in Cody. The Powell store is located at 410 South Clark St., and the one in Cody is at 2621 Big Horn Ave. 
 "Over the years Downhome Discount has found our customer base is the working families that budget[s] every dollar," said Mr. Brad Ruckert, co-owner of Downhome Discount.  "We wanted this business to be a blessing to those who work hard and need a budget friendly option for the day to day items."
The store was started by the Ruckert family in August 2017. The Ruckerts always shopped at discount stores and saw the need for one in this community. 
"We knew our family of six needed a store like Downhome Discount, and that was one of the motivating factors in taking the risk of opening a new business," Mr. Ruckert said. 
The store works with a variety of distributors, local and nationally, to keep their shelves fresh. They also support local vendors by selling their items. The Powell store carries products from Mollies Tamales, Grow 4 Life, Little Acres Farm and Righteous Roast.
"New stock is sorted, cleaned and priced daily; it's a labor-intensive process," Mr. Ruckert said. "We are very fortunate to have employees that do this process well."
The shop's supply has yet to be affected by COVID-19.
"Downhome Discount's supply chain has not been interrupted by COVID-19, [which] has allowed us to keep new items available to our customers," Mr. Ruckert said. "Like many others, we are finding it hard to keep up with demand and have found customers are very gracious during this time." 
Not only does the business sell items below retail price, they also give back to the community. 
"Downhome Discount operates on a volume based pricing system so we don't offer any other forms of discount," Mr. Ruckert said. "We do accept EBT and donate to other organizations in Park County that offer services to families and individuals in need."
All in all at the end of the day, the owners say it's all about helping other people. 
"The reward comes when customers thank us for being in their community and offering a budget-friendly option," Mr. Ruckert said. 
And to find that impact, look no further than PHS students, who can make purchases at inexpensive prices. 
"I think it's great because it gives people without a lot of money [a] chance [to buy] name-brand food," Lynn said.