LAST MAN STANDING
1 out of 2 female golfers on the PHS golf team attended state golf.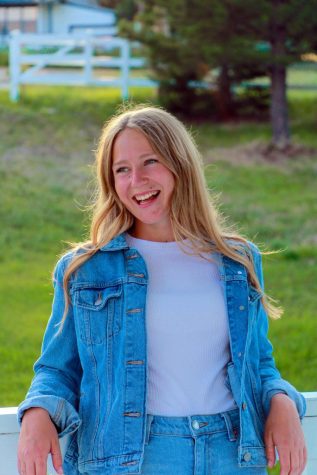 More stories from Sophe Morrow
The Powell High School golf team had a very small number of student athletes this year, including one of the six golfers on the state team being the only female. PHS senior Maddi Hackenberg, who joined golf for her first year this fall, was one of two girls on the team, but the only one who went to state golf Sept. 18-19. 
Despite being part of a small group, Hackenberg had great experience out of the season. At the beginning of the school year, she decided to try something new.
"At first I started doing pretty bad which was expected cause I never played before," Hackenberg said. "And then towards the end of the season I started working really hard and at conference I did really well and got a 113 [for 18 holes]."
There are different reasons why the size of the PHS golf team is not very big, including the interference with other sports.
"It seems like the main factor is that fall is the season with the most opportunities for girls with volleyball, tennis, swimming, cross country and cheerleading as well as golf," PHS golf coach Mr. Troy Hildebrand said. "Also, golf does seem to have lower numbers of girls and oftentimes in sports, you guys like to have friends there participating with you."
Hackenberg had participated in girls swimming for the previous three years, but she wanted to join golf in the hopes of finding more enjoyment out of the particular sport.
"… I would always go out and golf with my older brother Reece," Maddi Hackenberg said. "And I really enjoyed it so I thought I would try it out."
Looking back on previous seasons, Coach Hildebrand was not surprised by the number of girl golfers on the team this year.
"Golf is very much like most other sports at PHS," Mr. Hildebrand said. "We have had years where we were very competitive and years where we aren't as competitive, usually depending on the level of golf and tournament experience the team has."
View Comments (1)