ACHIEVING EXCELLENCE
Four PHS seniors to be recipients of full ride scholarships
More stories from Addy Moretti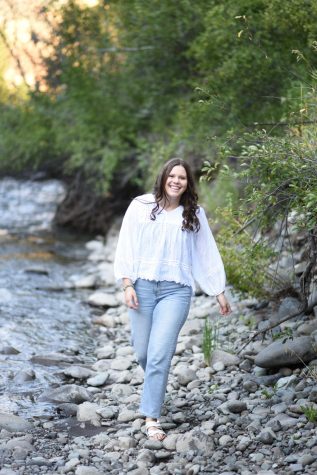 More stories from Gabby Paterson
Throughout high school, students have the constant thought of college in the back of their minds. But during their senior year, this thought becomes more prominent.
Contemplating costs and how far from home a college is can be intimidating, but four seniors — CJ Brown, Jenna Merritt, Elsie Spomer and Maggie Cappiello — have pushed through, and now have the luxury of not having to worry about the price of their future education. Brown, Merritt and Spomer are PHS' University of Wyoming Trustees' Scholarship winners, and Cappiello earned the Michigan State University STARR Charitable Foundation Scholarship.
CJ Brown
Brown plans to take full advantage of the Trustees' scholarship and use it to further his pursuit of computer science.
"Well, it's pretty awesome to be honest," Brown said. "I mean, that's something that everyone's always been told they can do from a young age if they work hard and it's just nice to see the hard work paying off."
The University of Wyoming was always an option for Brown, but he's now decided that UW is the place to go.
"The scholarship definitely cemented the idea of the University of Wyoming," Brown said. "Before I was on the fence, but now I'm probably going to go to it just because of financial reasons."
Jenna Merritt
Merritt aspires to pursue a career in anthropology but is still undecided. Despite having an all expenses paid award to UW, Merritt is a little hesitant to jump on that opportunity.
"It's really nice to have that as an option," Merritt said. "It means that I don't have to worry about other scholarships. It does make some of the decisions difficult because I have another first choice college, which I'm not getting as much paid for so that really makes it harder to choose."
"
Well, I said a lot that I have 99 problems and 98 of them would be solved by getting the STARR.
— Maggie Cappiello
Utah State University is the top pick for Merritt, but this scholarship may change her mind.
"It is nice to know," Merritt said. "That since I'm undecided it is an option that I can go somewhere, figure out what I'm doing and have it paid for at the same time."
Elsie Spomer
The third receiver of the 2021 UW Trustees' scholarship, senior Elsie Spomer. Spomer is an undecided arts and media major but her end goal is to teach art in some form. She says art always has been her thing, so majoring in that department was a given for her. This scholarship is beneficial to Spomer because she plans to take another step in her education at a more prestigious school that is more tailored to her future career.
"I've been looking at SCAD University which is the Savannah College of Art and Design in Georgia," Spomer said. "It's a private school, but they have a lot of connections to like upper level teachers and stuff like that."
Since Spomer plans to further her education following her four years at UW, this scholarship grants her the opportunity to only have to pay for graduate school, which lightens her load immensely.
"It's nice because I want to be a professor someday, so it's nice to have that first part of college already paid for," Spomer said. "It allows me to kind of shoot for further education which I think is good for me because I really like to learn."
Maggie Cappiello 
After a strenuous, nerve-racking application process, Cappiello received the prestigious STARR scholarship to Michigan State University, which attracts students who are ambitious, curious and display enthusiasm for extracurricular activities and learning. One of the reasons Cappiello applied for this scholarship is the opportunity to continue learning and earn a degree in food science. 
"Well, I said a lot that I have 99 problems and 98 of them would be solved by getting the STARR," Cappiello said. "Once I graduate, since I will be debt-free at that point, I plan on going on to culinary school to still pursue that dream [of baking and cooking]."
Cappiello has taken food classes since she was 14 years old, and she's become very passionate about it, so much so that she wants to make a career out of it. This inspiration and devotion didn't come out of nowhere, though. Cappiello said that ever since she was young her grandma and mom have influenced her work in the kitchen.
"I've always loved the kitchen [and] always loved learning about stuff," Cappiello said. "And it kind of was where I found my niche my freshman year of high school."
Leave a Comment