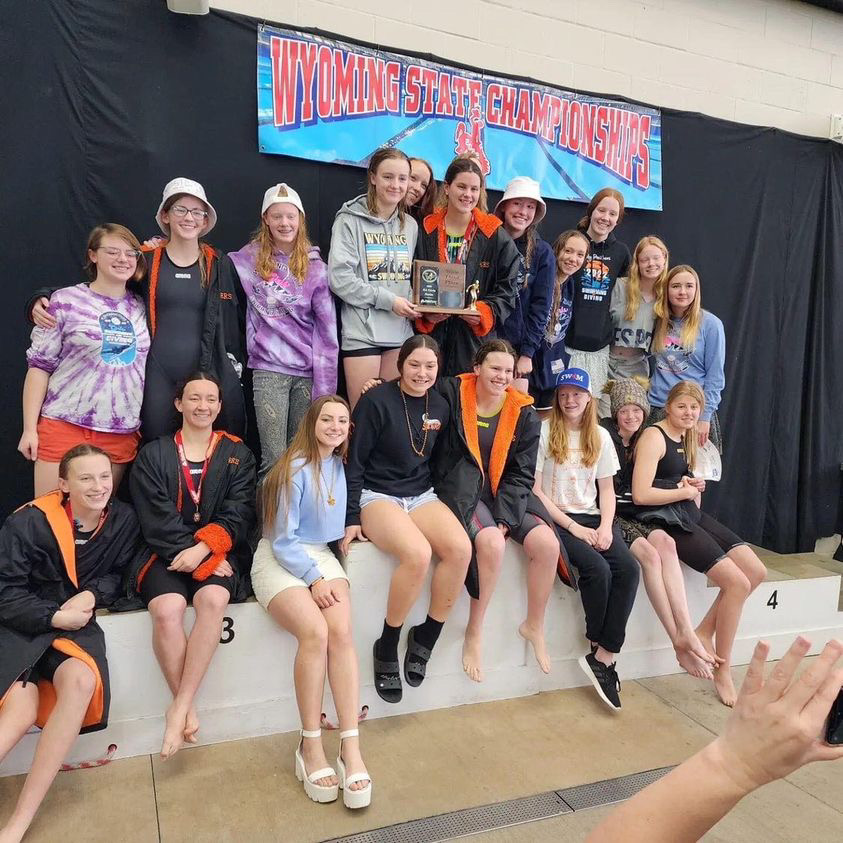 GIRLS SWIMMING STATE
The Lady Panthers finish third at the 3A State Championship
The Lady Panther swimming and diving team has signed off for the 2022 season, but not before cementing their place in the PHS history books. 
To close out an undefeated season, the girls traveled across the state to take on the best of the best in 3A. And for the third consecutive time, the Lady Panthers finished third behind Lander and Green River with a total of 201 points.
"Strong leadership was a critical factor in our podium finish," head coach Bob Smartt said. "Our seniors, Emma Mitchell (22 points), Grace Sapp (19), Gabby Paterson (18), and Kami Jensen (7), scored 66 of our team's 133 individual points."
The girls' relay teams also put up a strong performance.
"Our medley relay started finals on a high note finishing second," Smartt said.
"
Our medley relay started finals on a high note finishing second."
— Bob Smartt
The second place medley team was comprised of Grace Sapp (29.28), Emma Mitchell (32.63), Paige Thomas (28.25) and Addy Powell (27.05). The team earned All State Honors with a time of 1:57.21.
Senior Kami Jensen and freshman Victoria Blajszczak represented the Lady Panthers on the diving board as the only two diving finalists. 
Jensen placed 7th with a total score of 294.05, and Blajszczak placed 11th with a total of 243.85 in her State debut.
"I'm really proud of how the team did at State," Jensen said. "Third is what we were expecting to get, and that's exactly what we got."
The girls' undefeated regular season was credited to the teams' ability to keep its swimmers in the best position to succeed.
"Something that kept us undefeated was how we used our strengths," Mitchell said. "Every athlete has their own strengths, and we used them to create a strong team all around.