Wrestlers battle but fall against Billings Skyview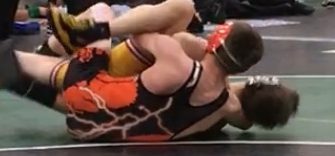 Powell High School's wrestling team put up a good fight against Billings Skyview at the dual in Powell on Tuesday, Jan. 16.
"I think the team performed well," said sophomore Corey Linebaugh of the Panthers' 46-24 loss. "Skyview was just a really good team and many of us weren't ready for a tough match."
Added junior Brian Brazelton: "I thought it was a good dual. We wrestled hard."
Many of the wrestlers are considering what they need to improve on to better their matches.
"I think the team could do better on bottom," said junior Cole Davis. "Our team performs really  well together though, there's just some things that as a whole we could work to be better on."
Individual winners against Skyview included Linebaugh (138 lbs.), Matt Seckman (195), Reese Karst (145), Brody Karhu (160 and Duy Hoang (220).
One senior suggested better mental focus as a key to further success.
"I think we need strengthen ourselves mentally," Stephen Preator said. "I think we need to go out on the mat knowing we are going to win the match. I think it's a huge problem right now that we are wrestling like we are scared. We have the conditioning. We have the coaches. We have the strength. I believe we just need a better mindset."
The team is still positive and ready for their next wrestling opportunity.
"I think we will do well. We had one bad week and we are making sure we don't do that again," said freshman Seth Horton. "I think we have a shot at winning state in all honesty if everyone does their job it'll be close but I think we can get it done."
The wrestling team will be traveling to Riverton for the prestigious Ron Thon Invitational to compete Jan. 26-27.
"I think the team will perform really well the rest of the year.," sophomore Bo Dearcorn said. "We could work on a few things but we are pretty good."