Panthers struggle to tame Broncs in rivalry game
Battered Panther squad falls short 22-10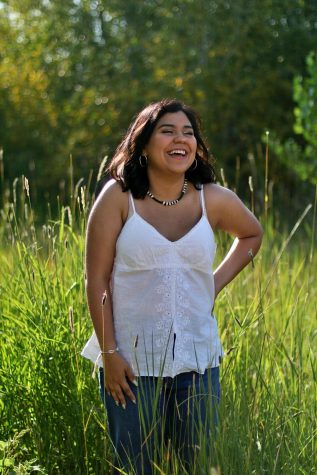 More stories from Kailey Jurado
Cody defeated Powell in this year's version of the Big Horn Brawl, which was Friday, Oct. 5.
The first half was close, and Powell actually led 10-9 in the third quarter, But in the end, 22-10.
"I always think we have a chance to win, until the final whistle blows," senior Carson Heinen said. "Losing is always tough. But we just have to move forward with the season and not reflect."
"
Losing is always tough. But we just have to move forward with the season and not reflect."
— Carson Heinen
For the most part, both teams were respectful towards each other during and after the annual rivalry game. Many players are friends with each other, so the rivalry that is on the field, usually does not continue off of it.
"After the game, the Powell kids gave [us] hugs and congratulated us because we are all friends off the field," Cody High School junior Paul Lovera said. "I gave high respect to the players for always keeping a close game."
Powell juniors Brody Karhu, Carson Olsen and sophomore Seth Horton were injured. This resulted in many moments of silence while both teams waited to see if the boys were OK. Many Powell students noticed that Cody's student section continued cheering during this.
"The Cody student section showed zero class, in my opinion," Horton said. "When we had kids hurt on the field, they were cheering and being disrespectful to us."
Added Heinen: "I heard the Cody student section cheering when both Brody and Carson got hurt. They knew what they were doing when they did that, so I am a little disappointed in that. It's not fun to see any player get hurt, teammate or not."
Some players expected this to happen.
"The Cody student section was doing a couple of things that were unnecessary, like cheering when our players were injured," junior Ethan Asher said. "That was definitely a low blow, but I think that's just the kind of stuff that you have to expect in a rivalry game."
Cody players were not focused on this though. Lovera said that "I wasn't aware of [the student section cheering in the moments of silence], I was focused on the game."
Although this game was a loss for Powell, none of the players were disappointed.
"It feels great to have the trophy once again and to keep it where it belongs," Lovera said.
And one Cody player said the outcome is secondary to the experience.
"Cody is a great team and proved themselves Friday night," senior Sawyer Mauthe said. "I never hang my head at a loss. Even if we do lose, I am still thankful for the opportunity to play football."
The Panthers fell 26-8 to Green River on Friday, Oct. 12, and were eliminated from playoff contention. The season concludes Friday, Oct. 19, with Senior Night against Jackson.