LEAVING THEM IN OUR WAKE
Hang on for a minute...we're trying to find some more stories you might like.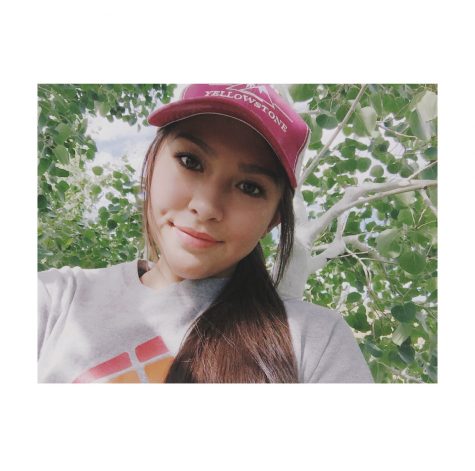 More stories from Rachel Kuntz
Panthers end their 2018-19 season in fourth place at state.
The spirit to succeed and the will to excel is measured one stroke at a time.
Powell High School's boys swim team placed fourth at the Wyoming State 3A Championships in Gillette with 137 points, behind Lander Valley (286), Rawlins (241) and Sublette County (148).
Throughout the season, the Panthers supported each other in and out of the pool.
"I've had the opportunity to help some swimmers with [their] swimming when our coach was unavailable and I've gotten to show up at state and win in my event," junior Richard Spann said. "Still, I think the best part is still just going to state and cheering on my teammates and hanging out with everyone before our races."
Spann's commitment to the team also is shown through the time spent driving to and from Powell for practice and meets. Spann lives in Lovell, where the closest swim team is over 20 minutes away.
No matter the time it takes, Spann continues to push himself to reach his goals.
"I have been swimming for about nine years so I mean the goals I try to shoot for are not associated with high school [times]. The goals I typically shoot for are the USA senior sectional times. Although, I do swim year round to keep me in shape for my high school season so that definitely has helped me get to where I am."
Spann won the 100 backstroke with a time of 54.23 seconds, putting himself second on the Panther Wall of Fame.
There were 14 state qualifiers this season, and of those qualifiers were junior Ben Cannizzaro, who's experienced the support and compassion of his teammates to drive him to push his limits.
"I felt that I did a good job and got my best times, but I think I could have done even better," Cannizzaro said. "I got to state with a mixture of hard work and the love and support of my teammates.
"The highlight of the season was having so many new swimmers join this year and being able to help coach and teach them. Although this year, it was much different, only because we lost so many fun and great guys last year and it was just a different experience without them. I'm so proud of this team and how hard they worked. This team is my family and I can't wait to for next season."
The Powell Panthers brought six freshmen to state, and of those were 500 freestyle swimmer Riley Schiller who qualified for state at Cody's last chance meet Feb. 7.
"My performance was all right but I feel like I could have done more with stroke work throughout the season," Schiller said. "The second half of swimming I was completely focused on the 500 and I swam it almost every meet, so I think [that] helped me in getting to state."
Their successes, support and will to excel is prospected to live on, measured one stroke at a time.
Listed are the team's results:
200 Yard Medley Relay:
Third place Richard Spann, Nate Johnston, Jay Cox and Bryce Hogen – 1:47.42
200 Yard Freestyle:
Ninth place Trenton Wilson – 2:04.41; Tenth place Joe Rogers –  2:05.39;
12th place Jay Cox – 2:05.16
200 Yard Individual Medley:
Second place Richard Spann 2:06.58; Seventh place Nate Johnston – 2:16.39
1-Meter Diving:
Second place Bryce Hogen – 305.35; Tenth place Cole Frank – 240.15
100 Yard Fly:
Seventh place Tarren Blackmore – 1:01.58; Eleventh place Ben Cannizzaro – 1:03.47
500 Yard Freestyle:
Sixth place Trenton Wilson – 5:33.79; Eleventh place Ben Cannizzaro – 5:59.40
200 Yard Freestyle Relay:
Eighth place Joe Rogers, Francis Rogers, Trenton Wilson and Bryce Hogen – 1:42.36
100 Yard Backstroke:
First place Richard Spann – 54.23
100 Yard Breaststroke:
Eighth place Nate Johnston – 1:07.54
400 Yard Freestyle Relay:
Sixth place Jay Cox, Joe Rogers, Nate Johnston and Richard Spann – 3:41.18