SENIOR PANTHERS AND LADY PANTHERS BID FAREWELL
Lady Panthers struggle against Fillies 28-26, Panthers triumph over Broncs 57-53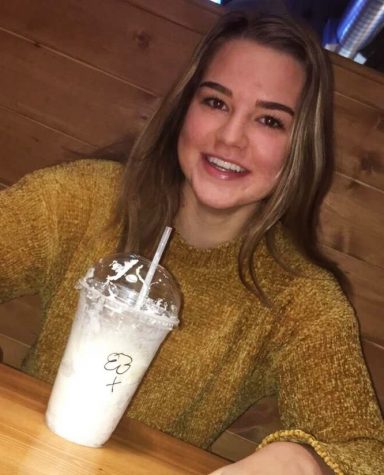 More stories from Tegan Lovelady
Senior Panther and Lady Panther basketball athletes played their final home game on Feb. 21 against the Cody Broncs and Fillies. One of the single most important games to these student athletes is the night they reminisce on past memories and have one last hoorah on their home court, all together, one last time.
The Panthers came away with a 57-53 win over Cody, while the Fillies beat the Lady Panthers 28-26.
Hosting a senior night for outgoing students who participate in extracurricular activities is a Powell High School tradition. This night not only honors the students for their hard work and dedication, but it enables Powell coaches and admin to thank their families for their endless support and sacrifice.
"My last home game took me back to the third grade, where it all began," senior Rachel Bonander said. "It's hard to believe that this is our last home game as a team. We've all been playing together for so long."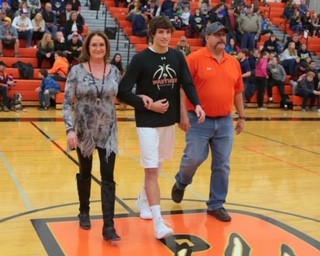 During the boys' varsity game, an unexpected event transpired that made this senior night particularly memorable for the players and fans: The first successful dunk to be completed by a Powell player in six years shook Panther gymnasium.
"I stole the ball and just started running; my adrenaline went through the roof," senior Dalton Woodward said. "I contemplated whether or not I should dunk [the ball], but then I realized it was my last chance to do it in front of the whole Panther fanbase. It was definitely the way I wanted to finish my last home game as a Panther."
The senior cheerleaders also walked alongside their parents during the varsity boys' halftime. Without the cheerleaders, the fun, exciting atmosphere of PHS sports wouldn't be the same. They encourage players to do their best, and they push fans to participate in the shenanigans.
"Cheerleading has taught me to have confidence, trust in my teammates' abilities and just enjoy myself," senior McKenzie Thompson said. "I will miss the family bond the team shares. We have always been there for one another, no matter what."
Thompson and fellow seniors McKennah Buck, Sarah Rodriguez, Gracie McLain, Gabri Lundberg Alyssa Gould have been under the guidance of sponsor Mrs. Vicki Walsh, who praised them for their dedication.
"This group of senior cheerleaders have been so amazing this year," Mrs. Walsh said.  They are such a diverse group and have been able to contribute so much to our team.  Their strength, positive attitude and leadership have been key factors in our success this year.  They will be greatly missed."
As PHS prepares to say goodbye to another wave of seniors, it is important to note that this year's basketball senior night did not disappoint.
"I was satisfied with the way we played as a team," Bonander said. "Even though we lost, we were able to see the growth we've made this season. The last time we played Cody, it was a 10-point game. This time, it was just two points that made the difference."