IN IT FOR THE LONG RUN
Hang on for a minute...we're trying to find some more stories you might like.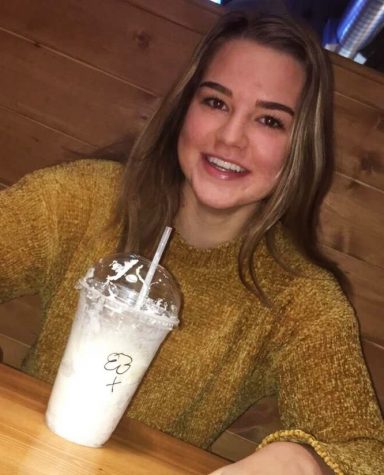 More stories from Tegan Lovelady
PHS students voice their perspective on running indoor track for the Lovell Bulldogs
As I prepared to run my first indoor track race of the 2019 season, butterflies fluttered in my stomach. The feeling of anxiety and excitement I experienced before getting in the blocks that day was familiar to me, but the blue and white jersey I wore was not.
Competing for another school is challenging, but it's also rewarding.
Answering questions like "Aren't you from Powell?" after peeling off my orange and black sweats only to reveal a Bulldog uniform or hearing the voice over the loudspeaker announce "Tegan Lovelady, Lovell" became routine.
There were many other bizarre things that came with wearing Lovell across my chest this season, but before I make it sound terrible, I must say that these few inconveniences were a small price to pay for the benefits that came out of running for another school.
It was a lot of fun to travel with another team. I was able to bond with new people and see a track team run in a different way than Powell's. Hearing new constructive criticism about hurdling and getting to know different coaches and their coaching styles were good experiences as well. Overall, I'm convinced this opportunity made me a better athlete.
There were good things, but certainly not enough to outweigh the burden of switching teams.
Since all the meets we attended were 4-plus hours away, it was exceedingly hard for my family to watch me compete. In fact, they weren't able attend a single competition. As the close-knit family we are, that was disappointing.
The commute to Lovell to board the bus before every meet was also a bother. This meant that I had to drive home from Lovell after competing all day and travelling a handful of hours on a bus in the late hours of the night.
"The hardest part about competing for Lovell was the commute back and forth from Powell to Lovell," sophomore distance runner Tyler Pfeifer said. "I really enjoyed the Lovell athletes and coaches, but all the extra stuff I had to do was a pain."
Competitors from different schools cannot share rooms. For example, Powell athletes can only room with Powell athletes. Most people would say "So what?" but this rule was especially hard for me to abide by at the meets where I was the only Powell girl. While everyone else was having fun with their roommates, I was sitting in my room, alone.
Even though we were all representing Lovell as one team, it still felt like we were divided when things like that rule kept us from merging.
Another instance of inequity was when Powell kids had to pay for all their meals while the other athletes got their food paid for by their school. That's one of those things that just seems so unfair.
I've learned that the extra and annoying tasks are just a part of doing indoor. If it's something you enjoy, the sacrifice is worth it. I had a lot of fun this season, as did most of the other Powell indoor track athletes I've spoken to. I absolutely recommend trying indoor track.
"Running for Lovell was a lot different than running for Powell, I liked it," sophomore Mattie Larsen said. "Switching from Powell coaches to Lovell coaches was hard because I didn't know them as well, but I would compete with Lovell again."