VOLLEYBALL TEAM FINDS JOY ON COURT
Lady Panthers go 1-2 at regionals, are eliminated from state contention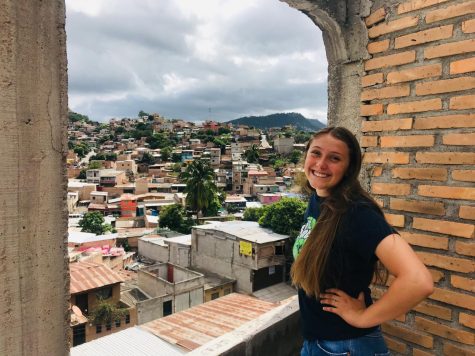 More stories from Emerson Wormald
The Powell Volleyball Lady Panthers finished their season with an unwelcome elimination from the 3A West Regional Volleyball tournament in Lander Nov. 1-2.
With a chance to qualify for state, the Lady Panthers played Mountain View and Big Piney on Friday, Nov. 1, and Lander on Saturday, Nov. 2. PHS beat Big Piney, but suffered losses to Mountain View and Lander, sending the Lady Panthers home a little earlier than most had hoped.
"I think they played well," Coach Mrs. Tasha Miller said. "We didn't leave with the outcome we were hoping, but they have nothing to hang their heads about; they fought hard."
During the last weekend together as a volleyball team, the girls wanted to win but focused more on teamwork and bringing joy to the court.
"I feel as if we did good having fun on the court while we were playing and supporting one another," junior Rose Graft said.
Other teammates agreed with Graft.
"I feel like I was able to bring positive energy to the court and try to keep others' spirits up," senior Kady Wells said.
While having fun on the court there was some progress made over the course of the season.
"I was proud of how much growth they had from the beginning of the year to the end," Mrs. Miller said. "These girls came in with only two of them having little varsity experience and I think they held their own and put up some great battles against some great teams."
Coach Miller continued to explain her thoughts on the volleyball seasons to come.
"I think there is always room for improvement on every aspect of the game and I'm excited to continue to see the growth of the whole program," she said.
For one senior, the final result impacted her personally.
"I think I played well; it was one of my best weekends," senior Sabrina Shoopman said.
Some strong points over the weekend consisted of aggressiveness on the net.
"There was some strong net play and consistent serves," Wells said.
And the players were happy with how they played during the tournament.
"I feel like I was really good at playing aggressive on the net over the weekend," Graft said.
Although the seasons didn't end as players had hoped, they still enjoyed constructing their teamwork together.
"Not everything turned out as I had expected it to or imagined in my head," Shoopman said. "But I still enjoyed my last year building memories with my teammates and improving volleyball skills."