HISTORY REPEATS ITSELF
PMS eighth-graders recreate the Civil War in their backyard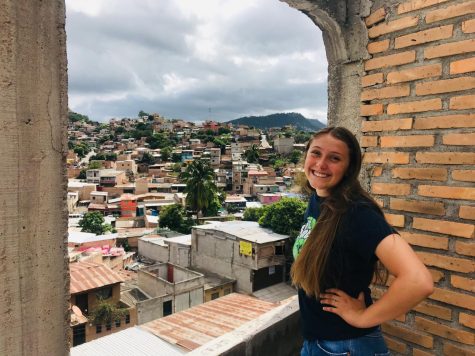 More stories from Emerson Wormald
"I recall a Union soldier lying near the Dunker Church with his face turned upward, and his pocket Bible open upon his breast. I lifted the volume and read the words: Though I walk through the valley of the shadow of death, I will fear no evil; for thou art with me. Thy rod and thy staff, they comfort me.' Upon the fly-leaf were the words, 'We hope and pray that you may be permitted by kind Providence, after the war is over, to return.'"    
-Charles Carlton Coffin, Army Correspondent, Boston Journal "Antietam Scenes," Battles and Leaders. Vol II, p. 685. NPS.gov
In this time of uncertainty, people often feel as though they are walking through the "valley of the shadow of death," or after the "war" is over, wanting to "return" (to normal) as people did during the American Civil War.
At the 1933 inaugural address of Franklin D. Roosevelt, he said, "We have nothing to fear, but fear itself."
His advice was inspired from words spoken by President Abraham Lincoln during the Civil War. As death runs its course from the coronavirus, fear is often instilled in us. Death, closure and fear come as a result of the coronavirus.
Along with the closure of many establishments, the end-of-the-year eighth-grade Civil War Reenactment has been canceled due to school closure.
But the Powell Middle School students had the chance to show their knowledge of the Civil War in a different but more creative way.
"We were not able to have the Gettysburg reenactment, so I gave kids the opportunity to research something about the civil war and create a digital project," eighth-grade social studies teacher Mrs. Noelle Baker said. "[ May 20] the eighth grade met in Zoom and shared their projects. The students had great projects; we had original artwork, posters and PowerPoints, websites, documentaries and reenactments. Some students chose to stop motion with Legos and one with gummy bears. All showed thought and creativity."
Eighth-graders Chance Franks, Marshall Lewis, Tevon Shultz, Evan Staidle, Ethan Welch and Seeger Wormald created their Civil War Reenactment together.
"I recreated the day three of the Battle of Gettysburg with a group of friends," Lewis said. "We used Nerf guns and BB-guns to recreate Pickett's Charge, as well as most of the battle."
Another group consisting of eighth-graders Brock Johnson, Jhett Schwahn and Trey Stenerson created a video with a different view of the Civil War.
"[My group] made a video about women spies," Schwahn said.
"
Well, no one caught their hair on fire, there weren't any fireworks and we didn't have to practice in the rain, but I think we will all remember the spring of 2020"
— Mrs. Noelle Baker
These women were usually black slaves who secretly reported to war generals and occasionally the president. Schwahn's group was showing these women's actions in their video.
Even though it was fun to do the project at home, people still miss the school reenactment.
"Absolutely, [I miss creating the reenactment with the students in school]," Mrs. Baker said. "The hardest thing about this spring was not being able to end the school year with a Civil War."
Students also missed being able to act out the war.
"[The real school reenactment] would have been fun to do," Schwahn said. "I would have preferred to do the real [reenactment]."
Another student had similar views.
"I was [excited to do the real reenactment before quarantine]," Lewis said. "Throughout my years in middle school, we got to watch the reenactment so not participating in it was a bummer; however I did enjoy it this way."
Lewis still managed to see the positive aspect, and Chance Franks shared the disadvantages of the situation.
 "I feel that [the real reenactment] would have been really fun, but we can't change it now," Franks said. "I think that [the war] would have been more fun at school because it would be more organized and it's more fun with more people."
The entire eighth-grade class performing would have been fun, but another student viewed the positives of the "at home war".
"I'm not that sad because even though I didn't get to do the reenactment with my whole eighth-grade class, I still got to see some of my friends and have fun," Wormald said. "However, I think I liked [the real reenactment and at home reenactment] the same because in the real reenactment, you got to build cannons and prepare for a long time. In our own reenactments, we had a better landscape, but no cannons."
As Wormald said, you don't get to build cannons, but you can incorporate your own ideas into the project.
"I sure did [like including my own ideas instead of a teacher's rules]," Lewis said. "We were able to control the project and what we wanted to do. And it was an opportunity to spend some time with my friends."
The students got to put their own unique spin on the war. They didn't have any guidelines to follow except to show what they know about the Civil War.
"Yes, [I did enjoy the project]," Schwahn said. "It was fun to make something that was on my own."
Added Wormald: "I had a lot of fun putting my own ideas into the reenactment because I didn't have to listen to any teachers, and we could do what we wanted."
Mrs. Baker said her supervision would have been helpful, but she was proud of the students' work.
"I think students do better with teacher guidance," Mrs. Baker said. "Well, no one caught their hair on fire, there weren't any fireworks and we didn't have to practice in the rain, but I think we will all remember the spring of 2020"
This spring will be memorable indeed. However, the students enjoyed their own time to make and film the experience.
"I definitely learned the same [doing it on my own vs with a teacher's guidance]," Lewis said. "Doing it on my own made me control what I learned, so, to continue being successful, I had to be self-motivated to keep learning. By doing this, I learned quite a bit."
Learning can come in all different forms.
"I feel like I learned the same [at home vs at school] because I looked into the civil war a lot because it interested me, so I ended up learning the same," Wormald said.
Other students would have preferred a teacher's leadership when it came to executing the Civil War.
"We didn't get the same amount of teaching because we weren't at the school with a teacher, so [the learning] was not the same," Schwahn said.
Added Franks: "I think that I learned more when I was with teachers because I could ask them more questions, and they could physically show me their schoolwork."
Overall, the student projects went well and gave inspiration for future eighth-graders.
"The kids did a great job and put in a lot of work; I appreciated their ability to persevere," Mrs. Baker said. "I think next year I will open the projects up to more video options, they really showed a lot of creativity, but I still like doing the reenactment. I think I will mix the two next year."