WHEN YOU'RE THE PRINCIPAL'S DAUGHTER …
… no one understands what it's like but you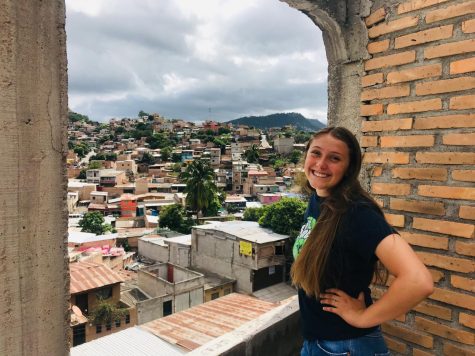 More stories from Emerson Wormald
You think you have it rough? Try being quarantined with the principal.
Other folks would be appalled at the thought of this life. I am living it. All day, every day, since the day I was born.
I am the daughter of PHS Principal Mr. Tim Wormald. He has been a principal for as long as I can remember (16 years). But actually, he has been an administrator for many years working jobs such as dean of students and assistant principal. This last year, in 2019, he applied and was offered the job of principal at PHS.
 Before his 11 years at PHS, he worked in Denver, CO. in the Cherry Creek School District, serving as assistant principal at Smoky Hill High School for two years before transitioning to Grandview High School for three years. Before that, they say he was an English teacher, although I don't believe that. I don't see my dad as a Mr. Cappiello (That's a compliment, Cap). When I was 5, he decided he had enough of the busy city life and moved closer to his hometown. Both of my parents grew up in Cody, so this is the area where my dad wanted to be. Powell was looking for an assistant principal, and my dad knew that was the job for him.
It's kind of ironic how he is now working as the head of his arch enemy school.
Anyway, being the daughter of the principal can be difficult sometimes as I am sure you can imagine. If you can't, well, I am here to inform you what the PROS and CONS are of being the child of the high school principal.
"
I count myself  lucky — and blessed. I wouldn't trade him or my life for the world.  He's my dad, and I love him."
— Emerson Wormald, Prowl reporter
CONS:
 

My dad is there for EVERYTHING. He is required to attend every event the school has — sporting events, dances, assemblies, etc. When I want to have the full high school experience (usually this means doing something that is typically against the rules), either I can't or I am caught, easily. Another example is the Winter Formal dance. I am slow dancing with a boy while he and his office buddies sit and watch. That's really awkward!

I am picked on by teachers and staff all the time. I am one of those kids who can't (for the life of me) tell the difference between sarcasm and a joke. Someone in the office might say something to me that I am supposed to laugh at, but I could take it as rude and offensive, which is a turnoff for them right away. Also, teachers tend to pick me to answer questions. To be honest, most of the time I don't pay attention (bad for the principal's daughter, I know), so I don't know the answer. That's even more humiliating.

I am watched like a hawk. As I have said before, my dad is here for everything. Occasionally, my dad is evaluating a teacher, and the teacher will pick on me to answer the question. (I am sure they are doing it to see what my reaction is). As I have said before, I usually don't know the answer. There is nothing more embarrassing than Mr. Smith calling on me to answer the science question while my dad is sitting right behind me waiting for me to answer. It's not just in the classroom or school building either. Any time, any place my dad has to know who I am with, where we are going and what we are going to do. You know, the overprotective father but as the principal as well.

Because I am the principal's daughter people assume I receive special treatment such as making the volleyball team or getting good grades. This is not true at all. I haven't received anything in my life that wasn't from my own hard work. I constantly hear rumors spreading about how I got this and I got that solely because of my dad. I have no true talent. They may think what they want, but I go after the things I want and I work hard for them. The only thing my dad ever did for me was teach me a good work ethic goes a long way.
PROS:
During this time of school closure due to COVID-19, my dad is an excellent source when it comes to news. I knew school was cancelled before anyone else did. This goes for any school event; he knows what's happening. I always feel really cool when people ask me when something is or what to wear because I know what the answer is. I never give credit to my dad, though he deserves all of it. I am normally not an informed person about anything school related.

Another plus is my dad has the keys to the entire school so unlimited access for me. I am a forgetful person, so he can open the school for me anytime I forget something. I might need to grab my volleyball clothes, print something or sneak into a teacher's classroom to grab a poster I need. And he has money for lunch if I ever decide to go out one day but don't have any cash. Furthermore, the keys can open up the gyms and weight room. Other students may have to pay to have a gym membership and to work out, but I am able to work out whenever my dad says I can. I have the keys to happiness – ha!.

My family has a long history of working in a school district. Both my grandparents were teachers. My aunt and cousin are teachers/counselors. Now, both my parents work in the school. This has helped me be the best I could be. You may think my siblings and I are pressured to earn good grades, but as long as we try our best, they don't care what our grades are. However, academics is always a priority in our household because of our family situation. This is a good thing because it has held me at a higher standard and pushed me to better myself. I am thankful to my dad because, even though I always complain, education is the best thing that has happened to me. Plus my parents help me on homework, especially writing. No wonder I am bad at math and science. (That English thing must be true).

Finally, you can always trust me to share my opinions. I can give my very harsh opinion on something related to the classroom. My dad pretends to listen or he listens and says, "That's life sometimes." I hate that phrase. Not because he doesn't change the issue, but because that phrase is true. I am always complaining, but it doesn't change the fact of the matter. I like to think I am helping, though most of the time he doesn't need my input. The other 5% of the time, when I'm not grumbling about something, he does ask for my opinion. He thinks because I am a teenager, I am more "hip" than him. He may ask:

 "Does this tie match my shoes?"

"Does this paragraph sound good?"

"Should I bring this into my speech?"

"Do you think this laptop will be a great learning tool next year?"
  Those kinds of questions he will listen to and appreciates my voice.
Ultimately, a dad is a dad. They may embarrass their children and will be excessively overprotective. It doesn't matter if it's in a school building, my dad is special though because I see him twice as much as other kids see their fathers. Life is short and I get to spend twice as long with my dad than others do. I count myself  lucky — and blessed. I wouldn't trade him or my life for the world. 
He's my dad, and I love him.