ONE BOOK TWO BOOK, RED BOOK BLUE BOOK
Child Development classes read to Powell youth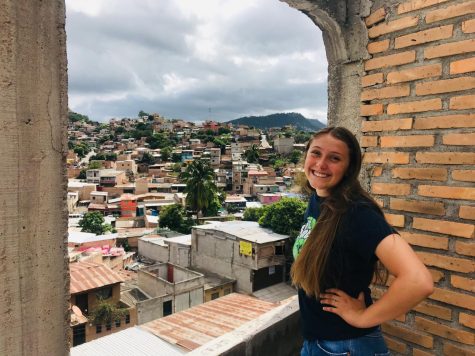 More stories from Emerson Wormald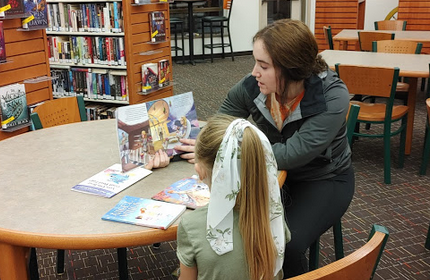 Q: What do elves learn in school?
A: The elf-abet.                                                                                                                                          –Anna Milter
While elves are learning the elf-abet, kindergarteners are learning how to write. Encouraging children to become young authors and share their thoughts and ideas through a story, the child development students had the opportunity to share a book they had written to Westside Elementary School on Feb. 20.
"I was feeling lots of joy and excitement being able to share my book with the little kindergarteners," sophomore Jayden Asher said.
The anticipation affected others as well.
"I felt excited that they were getting to listen to what I wrote and look at the pictures that I drew," sophomore Sarah Dunkerley said.
The final result of reading to the little ones was rewarding but the process to reach a content conclusion was difficult.
"At first, it was hard to come up with a story, brainstorming wise, but other than that the illustrations were probably the hardest [part of the writing process]," Asher said.
Thinking of a story line is the hardest part of the writing piece of work. It had to be something easy to read, easy to understand and be suitable for a kindergartener to comprehend while learning a life lesson.
"Some difficulties were trying to find the cause and effect of a story, or the problem in the story that would really help kids find a solution to a problem," Dunkerley said.
Even though there were hardships throughout the process of making the books, the excitement about ideas for writing the story outweigh the troubles.
"I came up with the idea [for my story] because I read a book to my neighbors about a little red truck, and they loved it, so I decided to write my story about a little yellow tractor," Dunkerley said.
Dunkerley's storyline is about a yellow tractor that is smaller than all the big green tractors; the little yellow tractor is trying to find where he belongs on the farm. Her story is more about self discovery while Asher's story is more about the power of friendship.
"I wanted to write a story about friendships," Asher said. "Even though there are tough friendship problems in life, friendships can keep you going and you can make it through the toughest situations [together with your true friends.]"
Through the brainstorming, writing and reading process, it prompted the young authors to think about their future with children.
"It makes me want to work with [children more] and [the story writing] helped me know how much they go through," Dunkerley said.
Asher learned a different lesson when reading to the Westside class.
"After going to the kindergarten class, I saw that there are a lot of teaching moments," Asher said.
Other child development students had the opportunity to read to little kids at Bingo for Books on  March 2 in the PHS library and commons.
Just as Asher and Dunkerley learned lessons about writing and reading with the young students, sophomore Traci Guiterrez also learned a lesson or two when reading Dr. Seuss books at Bingo for Books on March 2.
"I learned a lot about how easy it is for them to become friendly with new people and how quickly they lose focus," Gutierrez said. "I think they learned a lot about the books and I specifically made sure to ask what colors were in the book, and how to read words and numbers. I was very intrigued. The [kids] were all so very cute. I was ecstatic at the idea to be around them and see how cute they were."
The cuteness may even be enough to impact Gutierrez's future when working with kids.
"[Reading and working with kids] has most definitely [influenced my future with kids.]," Gutirrez said. "I am so excited to hopefully be able to work with children whether it be at a school or in bad situations like CPS (Child Protective Services) or hotlines. There is a lot of different options [I could choose with childcare and child [protection.]"           
Whether it's Dr. Seuss short stories or short stories created by the child development class, all students are learning great life lessons.