THOUGHT BUBBLES
Get out of your comfort zone with these wacky soda flavors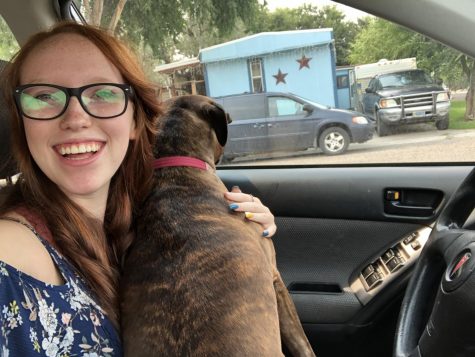 More stories from Abi Arends 
Candy stores. The places where everyone likes to go to get those random candies you like and can't find anywhere else. In addition to those candies, most candy stores also have unique soda flavors. 
Don't worry, you don't have to try them; I've endured this for you.
5. Zombie Brain Juice 
I'll give this a 10/10. This one was really good. Definitely had a strawberry taste to it. It reminded me of the strawberry Fanta you can get at McDonald's. It also reminded me of a strawberry orange smoothie without the milk and ice. This would be a great soda to have on top of ice creams. I would recommend getting this one. According to the northmarketpopshop.com, the strawberry and orange should always be together just like Zombies and their favorite food, which is what the Zombie Brain Juice is.
4. Peanut Butter and Jelly
I'll give this one a 6/10. The peanut butter and jelly soda definitely reminded me of a Smuckers PB&J sandwich. I would rather eat a PB&J sandwich than drink this soda. Peanut butter and jelly don't mix with carbonation. I could taste peanut butter more than the jelly, and it wasn't a huge delight. I am not a huge peanut butter fan anyway, so there's another reason as to why I don't like it. According to candycarrollton.com, the peanut butter and jelly soda will have you thinking you are drinking your elementary school lunch as the flavors dance around on your tongue.
3. Coffee 
This one deserves a 4/10. It wasn't the best, but it wasn't the worst either. The coffee soda was very weird. It kind of reminded me of dark chocolate, but it had a coffee taste to it. I am not a huge fan of coffee unless it has a lot of sugar and vanilla flavor to it. Plain black coffee should not be a drink on it's own. I don't recommend getting this one. According to sweetpetescandy.com, customers will appreciate the true coffee flavor of the glass bottle specialty soda with pure cane sugar.
2. Pickle soda 
I'll give this one a 1/10. This one reminded me of sipping out of a pickle jar, but it's sweeter. It smelled a lot like a dill pickle. It had that salty kick to it. My taste buds did not enjoy this as much as I thought I would. I would rather drink from a pickle jar after finishing all the pickles than drink this soda. It wasn't horrible, but I'd rather have actual pickle juice than this carbonated copy of it. According to sodapoponline.com, the Pickle Soda Pop converts the flavor experience of sipping from a pickle jar into a sweet soda that's easy to gulp down. 
1. Dirt Soda
This one is a 0/10, but I 10/10 DON'T recommend it. It was like eating a fist full of dirt if you fell off your bike when you were a kid. It made your face look grossed out. I would rather eat a Bean Boozled jelly bean than drink this soda. It was named accurately as it has a potent dirt taste to it. According to candycarrollton.com, the dirt soda is kind of like eating the wrong jelly bean in a Bean Boozled box. Some people say dirt tastes better than this soda.
These sodas are definitely interesting. I will stick with the soda brands that I know, such as Pepsi and Dr Pepper (though, I wouldn't mind having the Zombie Brain Juice every once in a while. I loved the taste of it). 
You can order these sodas at candycarollton.com, northmarketpopshop.com, sodapoponline.com, and sweetpetescandy.com. You can also find these sodas at the CowTown Candy in downtown Cody. 
View Comments (1)