HEY BATTER BATTER
After an indoor preseason, the Powell Pioneer baseball team is back on the field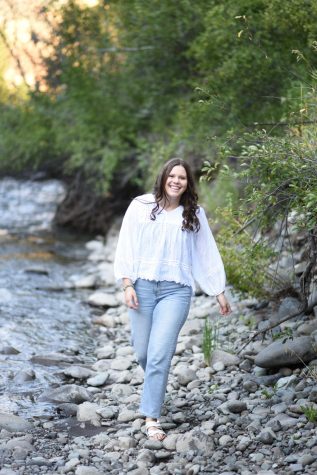 More stories from Gabby Paterson
After several months of off-season, the Powell Pioneers baseball team made a strong showing at their opening game against the Billings 406 Flyers on April 17.
Although they were off the field for the frigid Wyoming winter, the Pioneers prepared for their season with indoor practices, which started in January. 
"Our preseason indoors is the main reason we did so well," head coach Mr. Joe Cates said. "Our preseason allows our players to build arm strength and gives them a chance to take a lot of swings. Without that, we would not have been ready." 
This preseason was essential to the Pioneers' success. After falling short to the Flyers in the first two innings, the Pioneers got their feet underneath them and scored four runs putting them ahead for the remainder of the game which was called after the seventh inning. The final scoreboard read 9-6 for a Pioneer vicotry. 
"I felt that our opening day was a very good day," Coach Cates said. "Our team did a great job in all aspects of the game. We pitched well, hit ok, had good plate appearances, fielded the ball well and I feel that the team was mentally in the game for all seven innings."
Coach Cates added that several standout veteran players showed notable efforts on Saturday —  PHS seniors Mason Marchant, a returning player, and Kobe Ostermiller. Marchant is making a reappearance after leaving the team two seasons prior. 
"After not playing his last two seasons [Mason] did a great job pitching and his plate appearances were also very good," Cates said. "The other stand out was Kobe Ostermiller. He was very good at the plate with two hits and [good at] putting the ball in play."
Even though the game went well, there are definitely changes that could be made for the upcoming game on May 8. 
"The improvements we will be working on will be "being on time" at the plate," Cates added. "This means being ready to hit the fastball. This will become much better with more live at bats. This will also benefit our pitching because it will also give them a chance to pitch to live hitters."
Since the baseball team is not a designated school sport, the team relies on fundraisers to pay for the expenses such as traveling, uniforms and player insurance. The annual taco dinner could not happen because of COVID-19 restrictions, so they took a new approach. 
The Pioneers will be raffling off 6 firearms. If you win once your ticket will be reentered into the drawing for a chance to win again. The auction will be held at the American Legion Building on May 1. There will be a $500 prize along with the gun raffle. Tickets are $25 each or $100 for 5 tickets, and all proceeds go to the team.
Leave a Comment