TAKING IT UP TO THE TOP
PHS Speech and Debate take on their first meet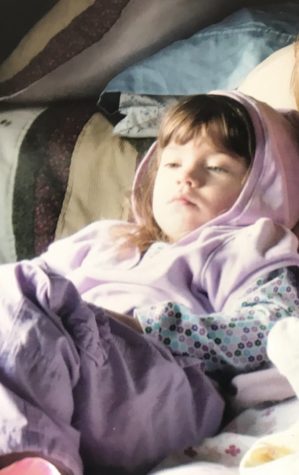 More stories from Emma Johnson
As the season slowly transitions into winter from autumn, another type of season is just beginning at Powell High School.The Speech & Debate team attended their first novice tournament virtually. 
Throughout the course Saturday, Nov 13, the team captains had a lot of pressure in making sure everything went according to plan. 
"Since it was a novice tournament, I was more focused on just making sure that everyone had a good start," junior Dacovney Brochu said. "My favorite moments, though, had to be from the small sections in-between rounds."  
Hosted by Cheyenne South, seven team members competed in each of their respective events, whether it be Duo, Drama, Public Forum Debate, Oratory or Congress. For some competitors, trying a new event is definitely worth the jump. 
"I think [trying a new event] was because it's just a novice season so we don't have much to lose," sophomore Allie Gilliatt said. "I'll definitely be competing in Duo again because it's very fun and easygoing." 
One of the standouts from the one-day tournament was sophomore team Elizabeth Peterson and Emma Johnson taking first place in their category of Public Forum. Although the pair debated Lincoln Douglas last year, a different style of debate, neither one of them anticipated winning in a round, let alone ranking first in the entire tournament. 
"Hearing that we won was one of the best moments," sophomore Liz Peterson said. "The look on everyone's face when they announced our name really couldn't be beat." 
Among everyone's faces were those of the captains of the speech and debate team, beaming with pride at the winning announcement.
"I had confidence in their skills, but it was still so exciting to hear them win," Brochu said. "Having such a good start to the season for our novices is always energizing." 
Junior Ethan Cearlock made big leaps in his novice career of Congress, breaking to the final round called Super Congress. Teammates freshman Salem Brown and sophomore Allie Gilliat also placed 2nd in Duo, despite the event being a little daunting in their eyes. 
"I was a little scared because there were weird rules like we can't look or touch each other during the piece," Gilliatt said. "But overall it wasn't bad." 
Even with the novice season just starting, the schedule has one more tournament that will be taking place in December. After that, the team will start competing officially in varsity, which will allow many members to have more opportunities for critiques and chances to improve their skill set. 
"I'm looking forward to bettering my cases and learning new skills," Peterson said. "I grew a lot last year and I'm hoping to continue that growth with the coming season."
View Comments (1)