STATE CHAMPIONS … AGAIN
Hang on for a minute...we're trying to find some more stories you might like.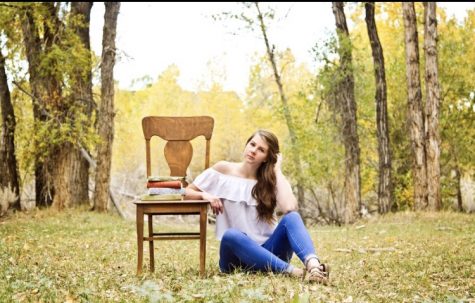 More stories from Devon Curtis
Karst, Karhu win their weight classes at state wrestling; Panthers place 3rd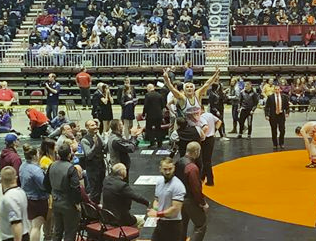 The excruciatingly long practices, the weight loss, the daily grind. All of this, just to make it here. State.
This is what you've spent so many hours training for, a chance to be a state champion, to be the best.
In wrestling, you don't have teammates to rely on. It's just you, your opponent, and the drive to win.
Junior Brody Karhu and senior Reese Karst led the Panther wrestling team to Casper Feb. 22-23 to contend for a state title. Karst and Karhu both took first in their weight classes.
PHS placed third behind the Star Valley Braves, who won with 296.5 points and the Douglas Bearcats, who were second with 193.5 points. Powell ended the tournament with 172 points.
Karst is now a 3-time state champion in the 138-pound weight class. He won his first match of the tournament by fall over Gavin Durfee of Newcastle-Upton. In his quarterfinal, Karst pinned  Keltan Ewing of Douglas. In the semifinal, Karst won by decision over Tristen Lungren of Worland 9-3. In the Championship match, Karst pinned Gabriel Munoz of Rawlins.
"It feels great to finally get that third title," Karst said. "It's definitely the pinnacle of my high school career, but I'm also sad it's over."
As one of the five seniors graduating from the Panther wrestling program, Karst offered some advice for the upcoming wrestlers.
"I think for the younger guys it's really important to have fun and to just enjoy the sport while they can," Karst said.
Karhu took his second state title, while fighting a bad cold.
"I did feel the effects of it [being sick] yes," Karhu said. "But there is a lot of mentality to it and I knew that if I just stayed positive and had faith in my abilities, I didn't have to worry."
Karhu won his first match over Hunter Gines of Lyman by fall. In his quarterfinal match, Karhu took on Brendan martin of Lyman, and pinned him. In the semifinals, Kahru defeated Tyson Hoopes of Star Valley by fall.
In the championship match, Karhu took on Lander's Jack Sweeney, winning by decision 10-4 to take his second state title.
"It feels great [to be a 2-time state champion]; it's just super exciting," Karhu said. "It's really just a huge blessing."
Junior Bo Dearcorn placed second in the 182-pound weight class, losing to Trent Clark of Star Valley by major decision 10-2 in the championship.
In Dearcorn's first match of the tournament, he beat Kyle Wanek of Star Valley by fall. In the quarterfinal, Dearcorn won by fall over Lash Branigan of Burns-Pine Bluffs. In the semifinals, Dearcorn defeated Isaac Goncalves of Worland by fall to put him into the championship match.
"In all the matches I won I think I did a good job of staying in good position and being the aggressor," Dearcorn said. "In the first-place match, what I think went wrong was I wasn't ready for that match mentally."
Other Panther wrestlers that placed were:
Seth Horton, 5th, 160
Corey Linebaugh, 4th, 132
Michael Maddox, 5th, 126
Trevor Feller, 4th, 120
Colt Nicholson, 6th, 106
Panthers place 2nd at regionals
By Madi Fields
The Panther wrestlers hosted regionals Feb. 15-16 and placed second to Star Valley.
Panthers who placed first were Reese Karst at 138 pounds, Brody Karhu at 152 and Seth Horton at 182. Bo Dearcorn was second at 182.
"Winning regionals was a big success, in my opinion, as an individual," Horton said. "I'm hoping to get on the top of that podium [for state.]"
Finishing with third was Trevor Feller at 120, Michael Maddox at 126, Corey Linebaugh at 132, Cole Davis at 145 and Carson Olsen at 195. Cameron Schmidt placed fourth at 170.
"I got a good seed for state and I thought I wrestled pretty good," sophomore Riley Bennett said. "My goal this season was to get to state and place at state, I also wanted to work as hard as I possibly could and have zero regrets."
As a team the Panthers finished with second 206.5 points. Star Valley came out on top with 288 points and Pinedale was third 119 points.