GRAVEYARD BASH
Lovell cemeteries will give you the shivers this fall season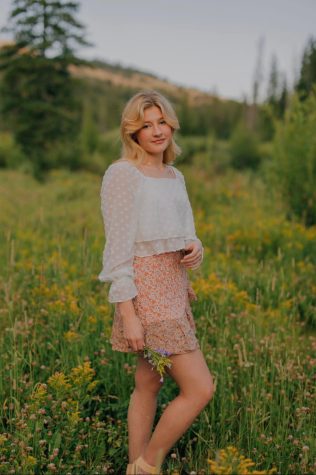 More stories from Chase Anderson
With Wyoming's rich Wild West history, it is no surprise that the state has plenty of "haunted" locations.
Outside of Lovell, Wyoming sit two old cemeteries whose headstones have been long forgotten by the general public. 
"One is what I would call an old Boothill cemetery and the other one…has got above-ground tombs," Northwest College employee Christi Greaham said. "These cemeteries date back to the 1800's, early 1900's. There are no towns associated with them that I have found in history through everything I have researched."
Historically, towns in Wyoming would come and go as people moved in and out of the state. Harsh weather, death and disease, and overall difficulty to survive were among the many reasons that settlers would leave Wyoming towns, leaving behind what we refer to now as "ghost towns."
In these ghost towns, items belonging to those who once lived there are often left behind. Whether it be an old home, a deserted farm, or a gravesite, it is believed that those who were once attached to the area may return to haunt it.
Below, Chrisi Greaham tells a story from her personal experience inside the Lovell cemeteries:
"With both of these [cemeteries], every time I have gone, we have always had something… happen. My favorite story is with my friend. Her little boy was 3 or 4, I had a group of kids with me that were older, and we had stopped and were walking around [the cemetery]. This little boy, his name was Chase, was skipping around the first cemetery and he just stopped and started having a conversation. We were like, 'What is he doing?' and he's like 'Alex, we're going to go see Alex.' We were like, 'Who's Alex?' We get out of the van at [the second cemetery] and the kids are running around…[Chase] is running around so I say 'Hey Chase, where's Alex?' and he points right to this grave and says 'Alex is right there.' I walked over and sure enough, the guy's gravestone said Alex on it. I'm like 'Chase, can you tell me how old Alex is?' and…he said, 'Best friend, you would know. You're the same age.' So, sure enough, [Alex] was exactly the same age I was when he died. We all ran, in the car, off we go."
It's important to add that the little boy, Chase, was a first-time visitor to the graveyards.
"[Chase] had never been [to the cemetery]," Greaham said. "He was 3 or 4 and just had started to talk real well."
With chilly weather and Halloween approaching, local ghost stories like these are just that much more bone-chilling. See you at the cemetery… unless they see you first.
View Comments (1)