FAREWELL CLASS OF 2022
PHS celebrated the graduated class of 2022 on May 22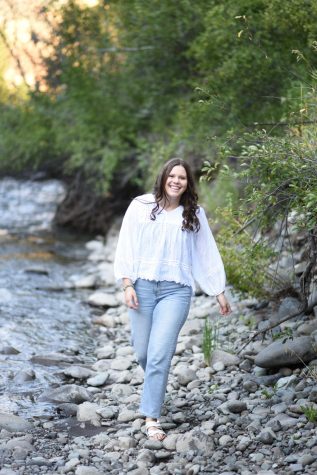 More stories from Gabby Paterson
Thirteen years building up to a couple handshakes and a piece of paper. 
It all came down to roughly fifteen steps across the stage. Smile big. Shake hands with Mr. Lensegrav. Can't forget Mr. Wormald because he's the one giving out the trusty diploma. Walk down the stairs, go back to your seat and wait for your fellow classmates to do the same. 
May 22, the esteemed Senior Sunday, Powell High School said goodbye to the beloved class of 2022. They have left an indelible mark on both the students and faculty at PHS. 
"The class of 2022 has been a great class," Principal Mr. Tim Wormald said. "There are a lot of really great kids in that group who have provided positive leadership for our school. I have enjoyed watching them grow into the fine young men and women that they are and anticipate they will have a lot of success in the future."
Every year, two students are rewarded the honor of Valedictorian and Salutatorian. This year, Jace Bohlman received the title of Valedictorian and Kabrie Cannon received the title of Salutatorian. To earn these titles, both seniors put in countless hours of studying and racked up an immense amount of college credits.
"I would say the honor of being Valedictorian is definitely worth the work for it," Bohlman said. "More than valedictorian, I wanted the ranking for scholarships. It is pretty nice to be able to say you are first out of one hundred eleven students based on weighted and unweighted GPA on a scholarship application."
Although being Valedictorian or Salutatorian may look great on a college application or scholarship, Bohlman wants to remind the upcoming seniors that there is more to high school than these achievements.
"I would like to remind upcoming seniors to stay focused," Bohlman said. "But make sure to prioritize your friends at times because they won't be around much longer."
During the ceremony, Mr. Wormald reminded the seniors to take chances in their future endeavors and not be afraid to fail. In all aspects of their life, whether it be career, family or secondary education, they should take a leap of faith and demonstrate courage in all that they do. 
"
Seniors, live boldly. Have the courage to move forward even when there's a chance you will fail. Jump in with both feet.
— Mr. Wormald
"Seniors, as you leave PHS and move on to the next chapter in your life, you will eventually stand at the edge of a big decision," Mr. Wormald said. "When you do, a question will inevitably enter your mind: 'What if I fail?' How you answer that question may be the most important decision of your life. To go forward in the face of potential failure is to show great courage, courage to jump in without knowing the outcome."
The class of 2022 had been patiently waiting for the moment when they could finally walk across that stage, but now that the moment has passed, many haven't been hit with the realization: high school is officially over. 
"When I was walking across the stage, I was thinking about all the memories I've made throughout high school and other schooling," graduate Riley Schiller said. "I thought about how that walk was the climax of what I had worked for in my life so far, but it also doesn't feel like I'm done with high school yet. The weight of everything hasn't hit me."
As the 2021-2022 school year comes to a close, a new door opens for the upcoming seniors, the class of 2023. There is only one year left for these students, and this year's graduates want to give them a few pieces of advice to carry with them.
Advice from the class of 2022:
"My advice to upcoming seniors is to not throw all school work to the wayside with the excuse of 'senioritis.' Keep a schedule. Stay organized and you'll actually have time for sleep and the fun stuff," Schiller said.
"Make sure you figure out what is important to you and why," Bohlman said.
"You shouldn't be afraid to try new things. After doing swimming and theater my senior year, I really wished I had done it sooner. Don't worry that you might be the worst at said thing, but try to have fun and improve on what you started with," Caden Sherman said. 
"Kindness is always beautiful. You never know what people are going through, and maybe you can't even imagine what hardships they've experienced. Instead of judging and being mean, we can be open minded and charitable. Now that doesn't mean you have to be the bestest of friends with everyone, but it means that everyone deserves the same respect and kindness," Kailiokalini Wisniewski said.
"Honestly, I don't know. I was just freestyling all four years," Emma Bucher said. 
"Don't hold back on something you want to do and enjoy the little things. If you want to do something, do it. You're only in highschool once and you might end up regretting an opportunity you didn't take," Kylie Kahl said.
"Don't focus on whether or not your high school time is flying by or dragging on, just focus on doing your best and having fun because that matters more than how fast or slow time feels," Megan McDaniel said.
"The grass isn't greener on the other side; it's greener where you water it. Put in the effort now, and it will pay off in the future," Gage Dunsey said.
"Don't care what other people are thinking. More often than not, they are only thinking about themselves, so just be confident in yourself. Once you change your mindset into one of confidence, it makes life a whole lot easier," Emerson Wormald said.
"High school is a very trying time-especially senior year. There are a lot of changes that you may not be quite ready for, so remember who you are and don't change for anyone. Even if things seem uncontrollable around you, you are the only one who can control your actions," Aiden Chandler said. 
"Focus on being a good person more than anything. People won't remember if you got A's in all your classes or if you always followed the rules, they'll remember if you were a good, kind, happy person. School isn't everything; connection and relationships with the people around you are," Madi Harvey said. 
"Make sure you explore and bring yourself out of your comfort zone. Don't lose sight of your education, but make new friends, say yes to hanging out, go to the dances, do what makes you happy and don't care what others think. Make the most out of high school and take advantage of the long nights and the early morning because once you're gone you'll have no regrets," Sarah Dunkerley said.
"Take advantage of the dual enrollment classes through Northwest because they are a great way to get a head start in college. Also, the fact that you have completed college level courses will help you earn scholarships," Ethan Bartholomew said. 
"My best piece of advice is to have a plan for after high school. It is super helpful to know what schools you want to apply to, and what scholarships, as well. It is absolutely worth it to work hard in order to achieve your goals. I'm glad I spent as much time as I did applying for things because it paid off," Ben Whitlock said. 
"Don't procrastinate," Dakota Hansen said.
Leave a Comment