ONE STATE – ONE COMMUNITY
How one state has managed to stay connected in a time of division and hardships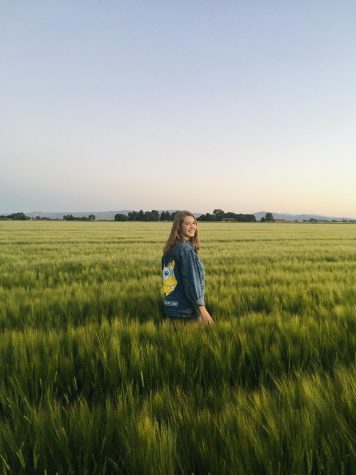 More stories from Addy Moretti
The Equality State. Cowboy central. The middle of nowhere. All these terms are synonymous with the state of Wyoming. 
But do these aliases truly give the rest of the world a clear picture as to what it is like to live in such a place? Who we are? What we stand for? And how do we define ourselves? 
Not only can one say that Wyoming is a community of people, but we are a flock of cowboys and cowgirls who love, support and care for one another.
In 2019, our small town of Powell suffered a great tragedy. A fellow student was involved in a violent vehicle wreck causing serious, life-threatening injuries. 
All at once, it felt as though the state of Wyoming stopped moving. We mourned and grieved at the thought that someone so wonderful had to go through something so awful. 
Then it began. The support. The concern. The hope. It flowed throughout the entire state and coursed through the veins of every town. We became Ethan Strong.
"(Difficult) things happen to people every day," said junior Payton Asher, who is the sister of accident victim Ethan Asher. "Why God spoke to so many people across this state is only something He can answer.
"Love came pouring in from towns we don't even play, athletes we have never met and families who were touched and sent their love in the form of cards, letters, prayers, money, T-shirts and other gifts. In one word, it was overwhelming."
Donations flooded in from all over the state. But it wasn't just the physical support that was notable, it was the prayers and the hope given to the family. That feeling that we were doing everything possible to ease the pain of this family showed the unity of the people. What do we stand for? We stand for taking action.
The people of Wyoming do not lay flat. We don't submit to the general flow of events. We prefer to rise up for what we believe in and stand up for it. One of these strong beliefs is that if someone needs help, we go above and beyond.
This year, the PHS All-State choir was traveling to Gillette for All-State. They were making their way down Ten Sleep Pass when their bus broke down only 5 minutes away from Buffalo.
"Coincidentally, there was a mechanic from one of the schools driving behind us," junior Joe Kousoulos said. "He saw us and tried to help us fix the bus."
Although the bus could not be repaired then and there, the mechanic called Buffalo's bus barn and asked for a bus for the band students while he was fixing the other one.
"He was able to obtain the alternator that we needed and also replaced the batteries that were also nearing the end of their life," Transportation Supervisor of PCSD No. 1 Mr. Stephen Janes said. "Instead of waiting hours for repairs to be done, Dennis had a bus that was not in use that weekend and was able to let us borrow that for a couple of days until the repairs were made.
"To make sure that the bus was going to be good to come back over the mountain and to get their bus back to them, Bill Lyke (Buffalo bus driver) had some free time and was able to make the swap before you all had to come home."
Not only did this man fix their bus, but he went above and beyond to make sure they got to Gillette safely. How do we define ourselves? We define ourselves through the way we treat each other.
And the way we treat each other shows the undying support throughout the state. We care about each other and are willing to give our all for those who are in need. 
Wyoming is just one long street, one community just spread out over 97,818 square miles. 
So who are we? 
Simple. We are family.