THE MASHED POTATO SCOOP
Look into PHS students' feelings on new school lunches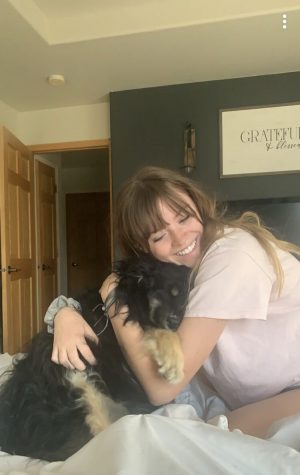 More stories from Alexis Terry
The bell rings, and noises of starving children fill the halls; lines lead on- 20, 30 or even 40 students deep. Throughout the Commons one can hear disdainful whispers about the food and how kids are going to "not eat it."
Are school foods really getting worse? Or are the kids in school getting pickier? This is the inside (not mashed potato) scoop on the PHS cafeteria.
Due to Covid restrictions, the menu has changed. Some of the new foods the school district has introduced include the buffalo chicken sandwich, turkey bacon ranch wrap, tot-chos (nachos but with tater-tots), philly cheese steak sandwich, walking tacos and, coming in February, cheese ravioli. 
"I think the fact we are getting new additions to our menu alone is a great thing," PHS foods service assistant Mrs. Schelley Argento said. 
Argento said that switching up the menu is a good way to try new foods. This also allows for the district to discover what foods do well and which ones don't. 
"
You can't really go wrong with pizza."
— PHS sophomore Lila Asay
"We can only try and see how it goes," Argento said. "If kids don't like it we will come up with more ideas." 
It's not uncommon to hear kids complaining about the food. But ever wonder why they still eat it? Some students confess that they secretly like the school's food. 
"I really enjoy the chicken nuggets and waffles on Fridays," PHS sophomore and lunch enthusiast Grace Coombs said. "It's one of my favorites." 
The meals served on Fridays seem to have more popularity then regular school day lunches according to students. 
"My favorite is the classic pizza," PHS sophomore Lila Asay said. "You can't really go wrong with pizza."
The freshmen this year are trying the meals without previous knowledge of the older meals. 
"I like the nachos," freshman Olivia Wells said. "You can't really mess nachos up."
Though students love these meals, there are more lunches that land on the not-so-popular side. 
"My least favorite is probably any of the soup lunches," Coombs said. "And spaghetti." 
Added Asay: "My least favorite is the sub sandwiches. The cheese and meat just seem so processed." 
"My least favorite is probably the chicken sandwiches," Wells added. "They're kind of icky."
Overall, the meals in the lunchroom seem to be getting eaten. Though there will always be controversy over which meal is the best, it seems that students just enjoy having food on their plates. 
Leave a Comment