'OUT OF NOWHERE'
Junior Mikey Timmons rolled his vehicle on the Garland 'bend' on April 27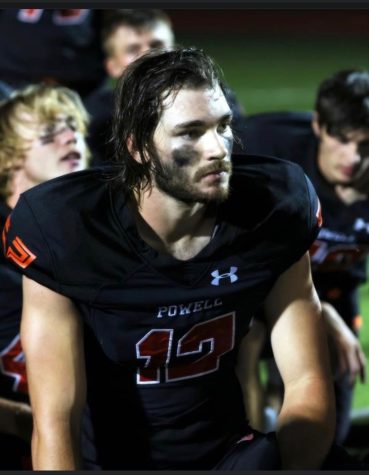 More stories from Nathan Feller
For some, driving can be a stressful activity. But for others, it's a liberating experience. However, it's irrefutable that operating a vehicle can be dangerous.
According to an article by Darrigo & Diaz Attorneys at Law, over 6 million people a year on average experience these dangers first hand.
On Tuesday, April 27, PHS junior Mikey Timmons joined the 2021 automobile crash stats when he rolled his truck on "the bend" just outside Garland around 10 p.m. Timmons said he was on his way home when he hit a deer, lost control and slid off the road.
"I was going fast as usual," Timmons said. "I [was] leaving Garland and I saw a group of deer to my right. [I] didn't think anything of it until this deer comes out of nowhere [on] my left. I smoked it with my driver side tire and it ripped the tire so hard I [lost] control."
Timmons' vehicle went off the road at 70 mph, skipped over the ditch and rolled into the field.
"All I could think was that it would be over soon," Timmons said. "And it was. So I found my hat, [crawled] out the back window and walked back to the road to wait [for] help."
Timmons emerged from the wreck with minor injuries and was rescued by an elderly lady who found him by the road and called in a sheriff. And although he was driving alone, his family was with him in shock when they found out about the wreck.
"That was a sketchy night," said Vincent Timmons, Mikey's freshman brother. "I really wasn't expecting a call like that."
The damages Timmons' truck sustained are far beyond reasonable to attempt to repair.
"My truck is totaled," Timmons said. "Unless I drop $20,000-$30,000 into it."
"
My truck is totaled, unless I drop $20,000-$30,000 into it.
— Mikey Timmons
Timmons' truck, damages and all, will go into an early retirement as a result of the accident. A tribute to his beloved vehicle was paid in the form of a sentimental TikTok that was posted on Timmons' account.
Although both his vehicle and a deer were put out of commission that night, Timmons was saved from a high velocity ejection by his decision to buckle up. 
"Yeah, I was wearing a seatbelt," Timmons said. "Good thing, too."
Leave a Comment