DRIVE-IN SHOW OF SUPPORT
The American Dream Drive-in brings the Powell community together in support of former PHS resource officer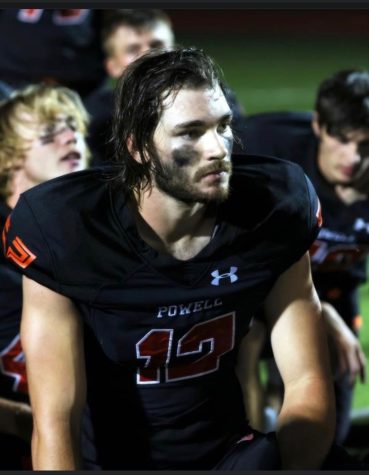 More stories from Nathan Feller
Drive-in movies have been a point of nostalgia deep within the heart of the American culture. Since their June 6, 1933 creation, drive-in theaters have been romanticized as one of the best venues for a date night. But on April 29, the American Dream Drive-In opened its gate for a far more important purpose – to support a beloved member of the Powell community.
Mr. Joe Mickelson, a former student resource officer at PHS, was diagnosed with cholangiocarcinoma and colon cancer Feb. 14 of this year; Mickelson has been battling the cancer ever since. However, he is not alone.
The Powell community – as it always has – rallied together in support of Mickelson and his family. To raise money and awareness, the American Dream Drive-In put on their first show of the season and donated the proceeds to Mickelson's family.
"The fundraiser was really good," PHS sophomore and niece of the owner of the drive-in, Kate Miller, said. "There was a really good turnout of around 155 cars and the place was packed 15 minutes into the movie."
Family, friends and coworkers alike drove out to the movies to enjoy the show and show their support.
"I thought it was a great idea," PHS football coach and P.E. teacher, Chase Kistler, said. "It was a good way to get the community involved and not only raise money, but to get everyone together."
Mickelson was well known around PHS. He worked everyday with students to help them with their needs and make Powell High School a better place. Many students and faculty consider him a friend.
"
We're all here for you. Keep fighting, and keep believing.
— Mr. Kistler
"We would speak every day when he was in the building," Kistler said. "He's always been energetic and worked well with the kids to help them through whatever issues they were going through."
Even those who didn't know Mickelson well recall seeing him with nothing other than a good mood and a cheerful smile.
"I didn't know him personally," PHS junior Jaedyn Hampton said. "But he was extremely nice to me at a job I worked at a couple years ago, and he always came in with a smile."
The drive-in fundraiser was greatly appreciated by those who knew Mr. Mickelson, especially his family and loved ones.
"The drive-in fundraiser was a huge success," Mr. Mickelson's significant other, Cindy Ibarra, said. "It was more than we could have ever imagined. We live in an extraordinary community… The love, kindness, prayer and generosity shown to Joe had been deeply appreciated."
View Comments(1)